Dr. Kelvin Ngo & Staff
Meet the experienced and friendly dentists and staff who make Eye Love Smiles Eye and Dental Care, the leading provider of oral hygiene and personalized dental services in Glendale.
---
Dr NGO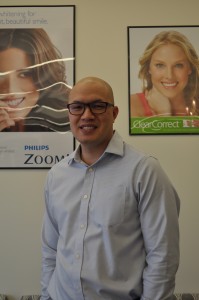 Dr. Ngo is what we call a gentle giant. He provides a wide range of dentistry with utmost care, honesty, and compassion.
He understands that every patient is different, and carefully listens to your needs.
Dr. Ngo is committed to providing high quality dentistry with the most advanced materials and technology available. Dr. Ngo and his staff will work very hard for you to provide thebest dental care while making you feel at home.
Dr. Ngo obtained his Bachelors of Science from the University of California, Irvine. He worked for two years as a research scientist in Los Angeles, CA before traveling across the country to study dentistry at Boston University Goldman School of Dental Medicine. After obtaining his Doctorate of Dental Medicine, Dr. Ngo continued on to a general practice residency at Kings County Hospital Center in Brooklyn, NY. He has since been practicing dentistry in the Phoenix Metro area.
Outside of work, Dr. Vu and Dr. Ngo are married with a family of four young sons and two dogs. As a family, they enjoy the desert life and love to explore the outdoors.
---
STACEY – Hygienist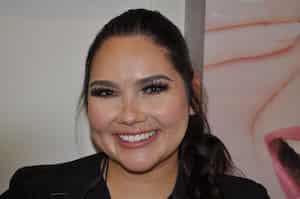 Stacey Martinez graduated with honors in Dental Hygiene from Rio Salado College and became a Registered Dental Hygienist in 2017.
Through patient education, Stacey strives to help her patients understand and improve their oral health. Stacey truly cares about her patients and wants them to feel comfortable during their dental visits. She also likes getting to know her patients personally, and developing lasting relationships.
In her spare time, Stacey enjoys spending quality time with her husband Reggie, reading and being silly with her daughter Olivia, as well as playing with their two dogs Milo and Cooper.
---
DARCEY – Receptionist
My name is Darcey. I joined Dr. Ngo's amazing team in the summer of 2020. I am from the beautiful Pacific Northwest (Washington to be exact) and have been in Arizona for four years now.
Working alongside Dr. Ngo has been thus far quite wonderful. He cares about his patients, and always strives to find the best care for them. My favorite part about my job is genuinely coming to work everyday and getting to be around our awesome patients.
In my free time my partner and I love watching our favorite sports teams play, going hiking and when it's not too hot outside baking delicious goodies.
---
DAMION – Dental Assistant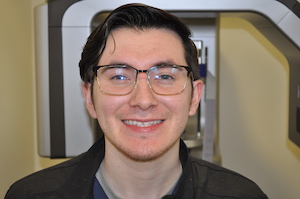 Hello, my name is Damion Raygoza. I've been a dental assistant for about a year now. I'm an AZ native and used to do competitive cheer and dance. Ever since becoming a dental assistant and working with Dr. Ngo, my favorite thing to do assisting him with patients in the dental chair. He does so many awesome procedures. It's the best past time.
Another good past time that I like to do as a hobby is training to fight bulls with my co-worker Edwin.
---
EDWIN – Dental Assistant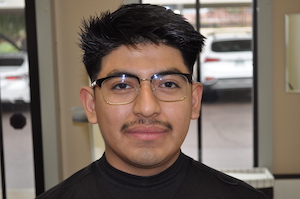 Hello, my name is Edwin Calixto. I am from Mexico City, Mexico, but was raised in Phoenix, Arizona. I have been a dental assistant for over a year now and currently in school pursuing Dental Hygiene. Working with Dr. Ngo and the rest of the team here at Eye Love Smiles has been great. It is a positive environment where something new can be learned almost every day.
When I am not helping Dr. Ngo with the various dental procedures in the practice, I enjoy making Pizzas and wrangling bulls with Damion on the weekends.
---