Dental Implants
Restore a strong, beautiful smile with help from Dr. Ngo at Eye Love Smiles in Glendale, Arizona.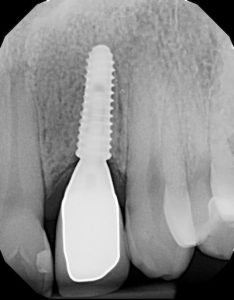 Dental implants are a better, more permanent way to replace lost teeth or secure loose dentures. They allow you to eat the foods you love and smile with confidence.
Dental implants come in a range of materials and configurations that are strong and beautiful. Talk to Dr. Ngo to find a solution that is right for your needs and your budget.
A Long Term, Reliable Solution
Dental implants are natural-looking replacement teeth secured by artificial roots or posts that are permanently attached to your jawbone. They will last a lifetime.
Like your natural teeth, implants can support normal chewing, natural speaking, and a beautiful smile. No more embarrassing slips with dentures.
Not only are they secure and reliable, implants are actually a healthier solution for lost teeth.
There a range of materials and options for securing the implants and creating a natural smile. Schedule an appointment at Eye Love Smiles to find a solution that is right for the health of your mouth and your budget.
Many Options, Great Care
There are many options when it comes to dental implants based on the health of your teeth and jaw. Implants can help anchor an entire row of teeth or simply secure sections. Dr. Ngo can help you find a solution that is comfortable and affordable.
Dental implants have many benefits over dentures, but it is important to understand that dental implants are not a quick fix. The process includes oral surgery, healing time, and several visits with our caring staff. As with any surgery, there are some risks to consider that Dr. Ngo will discuss with you.
To learn more about your options, set up a time to speak with Dr. Ngo. He is an advocate for advanced technologies and passionate about pain-free dentistry. Schedule an appointment today.